TOKYO METRO The Underground Mysteries 2019
Ride the trains around Tokyo, solve puzzles and discover new places!
Highlights
Includes the "24-hour Metro Ticket" that allows you unlimited rides on all Tokyo Metro lines
Discover places you've never been to and food you've never tried
Play the game on any day between October 15, 2019 and February 16, 2020
Description
This is a puzzle trail where you ride the trains around Tokyo, solve puzzles at your own pace, and discover new places! Make your visit to Japan's capital even more worth a while with TOKYO METRO The Underground Mysteries 2019 game and set out to explore the city in a fun and original way.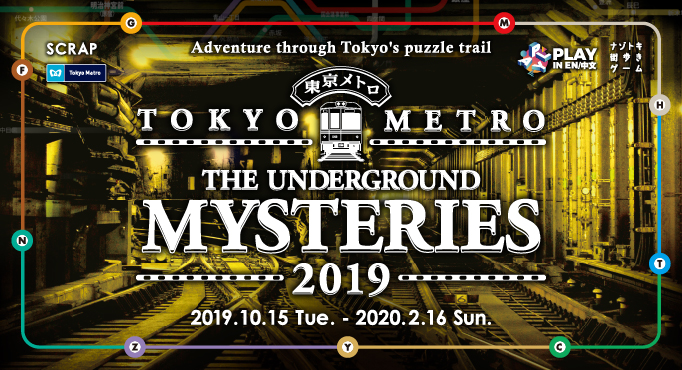 Details
About The TOKYO METRO The Underground Mysteries 2019
Once again this year, puzzles have been scattered around Tokyo for you. The puzzles will take you to the streets of Tokyo. The destinations along the way are likely places you have not been to. There are definitely a lot of "first times" in store for everyone.
At times you will be solving puzzles while not knowing where exactly you are headed next. Embark on an adventure full of excitement and discoveries, try and solve the puzzles and unveil a new Tokyo for yourself, family and friends. All this while riding Tokyo Metro. 

Step 1: Purchase a game kit
Purchase your game kit at a designated location. Please note that pick-up locations and options vary. See the "Important Information" section for details. The game kit includes a 24-hour Tokyo Metro train ticket which allows unlimited rides on subway lines in Tokyo. 

Step 2: Solve puzzles
As you solve the puzzles in your game kit, proceed to various locations.

Step 3: Explore around Tokyo
Follow various hints and codes, look around Tokyo and solve the mysteries.

Step 4: Submit the final answer
Once you find the final answer, submit it on this page to clear the game!

Game Period
This game is available every day from October 15, 2019 to February 16, 2020.

How to Play
As the number of players is not limited, there are plenty of ways to have fun while playing.

Play With Friends
As any number of players can play at a time, you may split into groups if you like and compete as to which team can clear the game first! 

Play Alone
As there is no time limit, you may enjoy the game at your own pace checking out fun cafes and shops along the way!

Play as a Couple
Here's in an unusual idea for a date - discover new sides of Tokyo together as you go about the city riding the subway, exploring and solving puzzles. 

Play as a Family
Travel comfortably and smoothly On the Tokyo Metro trains train rides are smooth and comfortable. As there is no time limit, you may stop to rest anytime if the kids get tired!
Important information
Included in price
24-hr Metro Ticket
Puzzle Guidebook
Delivery fee to a hotel accommodation within 23 wards in Tokyo
Know before you Book
What is Required/Recommended
The ANSWER submission box and hints page are located online. You will need  a smartphone, tablet, or laptop that can connect to the internet. Feature phones are not compatible. (All data charges are borne by the customer)
Make sure you wear comfortable shoes as you will be walking around the streets of Tokyo.
About this Game Event
You may play the game on any day during the game period October 15, 2019 to February 16, 2020. You do no have to play the game on the day of purchase of the game kit. 
There is no time limit. It may take up to several hours to complete the game, so make sure you have enough time to spare.
Note that the 24-hour ticket that comes with the game kit is only valid for 24 hours once you activate it.
If you choose to play the game over several days, you will either have to buy another 24-hour ticket or pay separately for the train fares.
In general, you may enjoy the game from the time of the first train until the last train.
However, there may be some checkpoints that will be open until late or close until the last train.
You will require a valid ticket to pass through the ticket gates.
If you do not have a valid ticket, you are not allowed to enter or exit even for a brief period of time.
* Tokyo Metro does not sell tickets that allow you to enter a certain station without riding the train.
It is not possible to use a ticket or an IC card (such as Suica, Pasmo) to enter and exit the same station (without getting on the train).
Take extra care when walking inside train stations or on train platforms while playing the game. Also refrain from causing non-players any trouble or inconvenience.
Please understand that we are unable to take any responsibility for any accidents or theft that may occur. 
For parents and guardians of players under the age of 18, make sure that they return home by 11 PM. (According to the Japanese law - Tokyo Metropolitan Ordinance Regarding the Healthy Development of Youths).
About the Game Kit
Purchase one game kit per person. The 24-hour ticket that comes with the game kit is an adult ticket, and it is not possible to replace it with a child ticket at the child ticket price.
In case you lose your game kit, we are unable to replace your lost kit with a new one. You will need to purchase another game kit should.
About Hints
A hints page is be available throughout the game period to aid you with solving the puzzles. Check your puzzle guidebook for the link to the hints page.
The Tokyo Metro staff at the platforms or the pass offices do not have any hints or answers to the puzzles.
About Spoilers
For the sake of players who have not yet played this game, refrain from uploading any information or photos of the puzzles, answers and game kit material onto social media platforms. It is also prohibited to resell a game kit.
What you need to bring:
Game Kit (with 24 hr train ticket)
A smartphone or any device that allows you to connect to the internet
Comfortable clothes and shoes
About Refunds
A refund will only be issued if you return an unused game kit and 24-hour train ticket belonging to the "The Underground Mysteries 2019". A handling fee of 220 yen will be charged at the time of return of the game kit. 
Refunds can only be provided at the following select Tokyo Metro Pass Offices until 16 Feb 2020 (Sun):
Ueno, Kita-Senju, Shinjuku, Tokyo, Ginza, Meiji-jingumae, Shimbashi, Oji Station
*For Shimbashi and Oji Station, returns will only be accepted at the Tokyo Metro Pass Office until 31 Jan 2020 (Fri). 
There are 4 pick-up options: 
1. Japan Travel KK Office, Monday - Friday: 9.30 AM - 6.30 PM
*Closed for New Year's holidays between December 28, 2019 - January 5, 2020, and on January 13 (Mon), 2020
Address: Seika Bldg, 5F
                    3-5-17 Kojimachi
                    Chiyoda-ku, Tokyo 102-0083
                    Google Map 
Game kit + 24 hr Tokyo Metro Pass Price: 2,400 yen per person

2. Tokyo Metro Station
Tokyo Station Pass Office, Monday to Friday: 9 AM - 2 PM, Saturday to Sunday: 9 AM - 5 PM
Address: 1 Chome-6-5 Marunouchi,
                    Chiyoda City, Tokyo 100-0005
                    Google Map
Game kit + 24 hr Tokyo Metro Pass Price: 2,400 yen per person

3. Tokyo Mystery Circus, Monday - Friday: 11.30 AM - 10 PM, Weekends and public holidays: 9.30 AM - 10 PM
*Closed on January 7, February 3-5, 2020
Address: APM Bldg
                    Kabukicho 1-27-5
                    Shinjuku-ku, Tokyo 160-0021
                    Google Map
Game kit + 24 hr Tokyo Metro Pass Price: 2,400 yen per person

4. Delivery by mail to accommodation within 23 wards in Tokyo
Game kit + 24 hr Tokyo Metro Pass Price: 3,000 yen per person (game kit + 24 hr Tokyo Metro Pass price with 600 yen mail delivery fee) 
Once you place your booking we will ask you to provide the following: 
- Name and address of accommodation in Tokyo
- Name of the person hotel reservation is under
- Check-in date
*Note that delivery is possible to hotels only
*Allow approximately 3 business days for delivery
*Note that delivery arrangement is NOT possible while Japan Travel KK offices are closed 
To redeem your game kit + 24 hr Tokyo Metro Pass, you will need to present the booking confirmation email
Meeting point
Once you have your game kit, you may start from any station, at any date and time during the game event period (October 15, 2019 - February 16, 2020). 
The Google map below is showing Tokyo Station Pass Office location. Tokyo Station Pass Office is one of the designated places for the game kit pick up. Other locations include: Tokyo Mystery Circus Shinjuku, and Japan Travel KK office.  

Organised by SCRAP
3 Reviews
I am an Escape Room buff. I love Escape Rooms and I love trying to solve puzzles (though admittedly, I am not that good at it). When I saw the advertisements for this particular challenge on the walls of the Metro when I went to Japan with my friends, I knew that I had to give it a shot. On my second to my last day in Japan on October 16, 2019, I made the decision to give this particular challenge a try. Unfortunately though, I was going to have to play this game solo. I went by myself to the Shinjuku station on the Maranouchi line, and bought a game kit for 2,400 yen (~$24 in U.S.). There's game kits for both Japanese and English Speakers. I got the one for the English Speakers. Once you get the game kit, you can go ahead and get started. Each individual person does not need to get a Game Kit. As long as one person in your team has it, you are fine. As an additional note: If you buy at least 2 game kits, you have the chance to get a limited edition Tokyo Metro The Underground Mysteries hand towel. After I finished my challenge, I ended up buying another game kit, just because I wanted the hand towel. Without giving too much away, the premise of this activity is simple. You're given a Game Kit. The Game Kit includes a 24 hour metro ticket, varying series of items (such as envelopes, pamphlets, and brochures, etc.) that you can only open at certain times, a pen, a puzzle book, and a folder case that holds everything. To begin your adventure, you need to take a look at the puzzle book. In the puzzle book are a series of puzzles that you need to solve in order to figure out where you need to go next. Once you figure out where you need to go, use your metro ticket to get there, and once you arrive at your destination, you are able to see if you're correct by using the next pages in your book and solving the puzzle or puzzles at your destination. Rinse and repeat, until you're able to complete the entire book. If you ever need help during the course of your challenge with any of the puzzles, you can use the Tokyo Metro The Underground Mysteries website to help you. (As a solo player, I can't tell you how valuable this website was for me. It helped me get the puzzles done in a timely manner, so that I was able to finish my adventure before I left the next day.) Though I wasn't able to thoroughly explore the places I ended up going to due to the limited time frame I had, the puzzle book itself has a lot of really good tourist information that detail good places to eat, landmarks to check out, and places to go. As someone that doesn't know any Japanese, this book was invaluable. I thought some of these areas were really cool, and they're definitely places I want to visit when I come back to Japan. Lastly, when it comes to my review of playing through this adventure, I honestly loved it. I thought the puzzles were very smart and thought-provoking. I had plenty of A-HA! moments, and I thought it was so cool that this adventure forced me to explore places of Tokyo that I would've never otherwise thought. Furthermore, playing this game also made me more comfortable with riding the metro. Once I finished this game, I was able to recant to my other friends, in detail exactly how I got to certain places. I felt super comfortable riding the metro and figuring out alternate ways to get to where I needed to go. But I think the best part of my experience was getting to interact with other players. As I said, I played this entire game by myself, so there were times when I would get stumped, even with the hints. There was this super sweet couple I played with, Alwyn, Justine, and their child, Oscar. They told me they love this game. Since we were all playing the same game, there were times that we would end up seeing each other at the same places and it was nice to catch up with them. In addition, because Alwyn and Justine were seasoned veterans of Tokyo Metro Underground Mysteries, when I got stuck, they gave me help with the puzzles, especially when I was unable to see the connection. As a solo player, I really appreciated the helpfulness and friendliness of my fellow players. The final part of the game to me, when I was able to meet up with Alwyn, Justine, and Oscar, as I solved the final puzzle is a scene that I will always remember. I know that I wouldn't have been able to thoroughly enjoy the game without their help and their hints. I definitely want to go back and play again sometime. TL; DR: If you want to explore different places in Tokyo, like escape rooms, and don't mind putting in the work to solve puzzles on your journey, I highly recommend this game.
I joined this event. It was very interesting because, through the problem-solving game, we can do sightseeing in Tokyo. I could find new wonderful places. Also, in the book of the event, there are some historical information and some explanation about the building and places. So, we can get some bits of knowledge by this event. I recommend this event because it is fun for us.
This is a very interesting game! We can go to different places with solving the puzzles, and like a small tourist. The puzzle is also very interesting, and the final answer will surprise you.