Kinkakuji Arashiyama Guided Bike Tour
An active bike tour taking to temples, Kinkakuji and the bamboo forest
Highlights
Visit two World Heritage sites - Kinkakuji and Ryoanji Temple
Enjoy the scenic beauty of the suburbs of Kyoto including Arashiyama bamboo forest
Let an experienced interpreter guide help you expand your knowledge on Kyoto
Description
This bike tour takes you along the 'Kinukake no michi', a connecting road between Kinkakuji and Saga-Arashiyama. The tour starts at Kinkakuji, one of the most famous Kyoto tourist spots, then to Ryoanji temple, where the well-known rock garden is, and it ends at Arashiyama, where you can enjoy Kyoto countryside and the lush bamboo forest.
Details
Tour Itinerary

Departure From KCTP Kinkakuji Cycling Terminal
Morning Section starts at 09:30
Afternoon Section starts at 13:30 

Kinkakuji Temple (Golden Pavilion)
This Buddhist temple, gilded in gold, is surrounded by superb gardens. It captures the beauty of Japan in achieving harmony with nature.

Ryoanji Temple
This temple is home to the most famous mysterious rock garden in Japan. While gazing at the garden, you will find inner peace and forget about time passing.

Hirosawa Pond
Hirosawa Pond is surrounded by nature and paddy fields. The stone Buddha statues nearby always watch over the lake.

Path of bamboo (Bamboo Forest)
Inside the Bamboo Forest, you will feel the strength of the bamboo. It is one of the best-known attractions of Kyoto.

Togetsukyo (Togetsu Bridge)
Arashiyama has been a resort of nobles since Heian period (1,100 years ago). Togetsu Bridge is a famous photo shooting spot in Arashiyama. Have your photo taken with this wooden bridge and the natural surrounding of Arshiyama as a backdrop!

Tour ends at Arashiyama Bicycle parking (Near JR Saga Arashiyama station)
Morning section ends at 13:00
Afternoon section ends at 17:00
Important information
Minimum number of persons required for the tour to run is 1.

Depending on the weather, the cycling tour may be substituted for a walking tour.

Traffic and weather conditions may affect the cycling tour finishing time.

Regarding children joining the cycling tour:
Children (10 years and older) who cannot ride

a

bicycle on their own are not allowed to join.

Please note that even

when

children are able to ride independently,  the cycling tour may switch to

a

walking tour if  KCTP staff  determines that cycling would be dangerous for children who are participating.

The cycling tour is recommended for children whose hight is over 110 cm (3 ft 7 in).
The tour includes:
Services of licensed English-speaking interpreter guide 

Rental bicycle fee

Admission fees

Accident insurance
Know before you book:
Cancellation:
2 days prior to the day of your trip – 40 %,
1 day prior – 50 %,
On the day – 100 %,
No-show – 100 %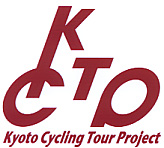 Organised by Kyoto Cycling Tour Project